Press Release: 2023-03-24
Immigrants Day at the State House 2023
Immigrants Day at the State House 2023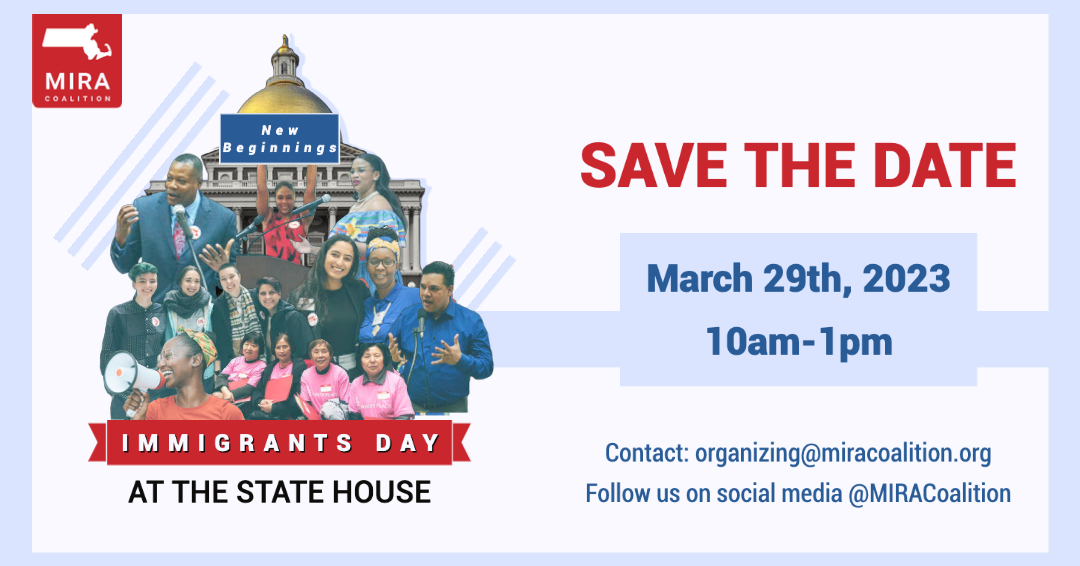 This year MIRA will be celebrating our 27th annual Immigrants' Day!
Immigrants' Day is one of our proudest events where we gather hundreds of immigrant and refugee constituents from across the Commonwealth to celebrate their contributions and advocate for their legislative and budget priorities. This year's program will be our first back in the State House since 2019!
2023 marks positive, new beginnings in immigration politics and immigrant-led initiatives that we invite you to support with us. We will be advocating for housing security, language access, foreign trained medical licensure, the Safe Communities Act, tuition equity, and child healthcare.
The event will kick off with a speaking program, followed by visits with legislators where community members can speak directly to the policies that affect their lives. Volunteer participants will also have the opportunity to freely visit individual offices.
We are privileged to have State Representative Danillo Sena, Representative Rita Mendes, Governor Maura Healey, Dr. Laith Almatwari, Yes on 4's Campaign Director Crisayda Belen, La Colaborativa's Health Advocate Brenda Romero, and MIRA's Executive Director Liz as some of our speakers! Other speakers and details will be announced soon.
____________________ 2023 Speakers;____________________


Governor Maura Healey


Representative Danillo Sena


Speaker Ronald Mariano


Liz Sweet, Executive Director of MIRA


Brenda Romero, La Colaborativa, Mass Speaks & Feeding our Neighbors


Crisayda Belen, Driving Families Forward


Cristian Dubon Solis, Stories Inspiring Movements (SIM)


Laith Almatwari, MD, Physician Pathway Act


Representative Rita Mendes


Interpretation will be available in Spanish, Portuguese, Haitian Creole and Mandarin Chinese. Please note, after the speaking program, groups will be directed to visit legislators' offices to advocate for MIRA's legislative bills.
Use our social media toolkit to help us promote Immigrants Day at the State House.