Press Release: 2023-01-24
Dental Hygiene Day at the State House – February 28, 2023
Dental Hygiene Day at the State House – February 28, 2023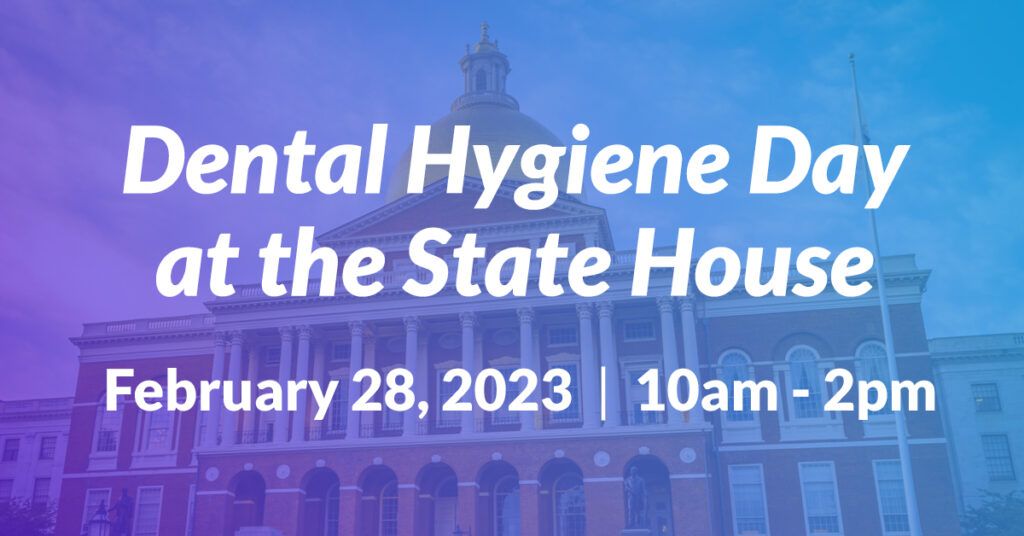 Please join us and have your voice heard in support of Dental Hygiene!
Tuesday, February 28, 2023
10:00 am – 2:00 pm (State house opens at 9:00am)
Please join us for another exciting day on Beacon Hill to promote the profession of dental hygiene and advance MDHA's legislative agenda at the State House. Our day on Beacon Hill is an opportunity for our lawmakers to hear from you, their constituents, about how our profession can help to improve access to oral health care for all residents of our state.
This event has been a great success in years past – don't miss out on making this year's event an even greater success! The day includes an exciting panel of speakers, and opportunities to speak with your individual legislators.
Order of Events on February 28, 2023:


Light Breakfast and Registration at the Grand Staircase


Welcoming Remarks


Keynote Speaker


Meetings with State Legislators/Oral Health Screenings


More Information:


One (1) Free Continuing Education Credit for attendance at presentations and participation.


Complimentary Continental Breakfast is provided.


Registration is free, register via email to ensure participation


Be sure to contact your state senator and state representative and invite them to the Grand Staircase on February 28th


To register, e-mail your name and home address so that we can properly identify your state senator and state representative to mdhalobbyday@gmail.com by February 14, 2023.
PLEASE MARK SUBJECT AS LOBBY DAY