Press Release: 2019-06-25
House's "GreenWorks" Climate Legislation, H.3846
House's "GreenWorks" Climate Legislation, H.3846
By State Representative Carolyn Dykema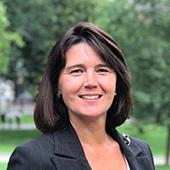 Climate change is a significant and growing concern with wide-ranging impacts, and although the Commonwealth remains a leader in several areas including energy efficiency, there is growing urgency for more aggressive policy.
Speaker DeLeo announced a new "GreenWorks" grant proposal to invest $1 billion over the next 10 years to help communities across Massachusetts adopt technologies - including clean energy, energy efficiency, and climate change resiliency measures - that cut greenhouse gas emissions, fortify infrastructure and reduce municipal costs.
The GreenWorks proposal has taken shape over the past several months and initial bond legislation was recently filed by my colleague Rep. Tom Golden, House Chair of the Committee on Telecommunications, Utilities and Energy, as H.3846, An Act relative to GreenWorks. You can find the full text of the bill here.
Below, please find an overview of the bond authorizations included in the proposal:
$1B for a "GreenWorks" infrastructure program, to be administered by the Executive Office of Energy and Environmental Affairs, to provide grants to municipalities for the following:

Improvements to publicly-owned infrastructure to support climate adaptation and resiliency, mitigate the impacts of climate change, reduce carbon emissions, implement energy efficient or conservation measures, improve energy efficiency, or contribute to the Commonwealth's efforts to to meet interim carbon emissions limits
Siting and construction of renewables, energy storage, and alternative energy projects on municipally-owned land
To implement adaptation/resiliency measures pursuant to our statewide climate adaptation strategy
To implement infrastructure improvements identified through the Municipal Vulnerability Preparedness (MVP) Program]

$100M for a matching grant program to support municipal development and deployment of microgrid energy systems.
$125M for grant programs to support electrification of municipal and RTA vehicle fleets, including:

$10M for planning and technical assistance
$25M for municipal acquisition of EVs and related infrastructure
$90M for EVs and related infrastructure including battery electric or plug-in hybrid electric buses

$20M to establish a grant program to support municipalities in hiring a sustainability coordinator to implement and monitor GreenWorks projects

Directs municipalities to execute a 5-year contract with the coordinator; provides up to the first 3 years of funding for designated environmental justice (EJ) communities and up to the first 2 years for other communities

$50M to establish a Green Resiliency Fund to provide loans to municipalities for the following:

Meeting matching requirements of the GreenWorks program after demonstrating financial need
Resiliency improvements for extreme weather preparedness
Resiliency investments that result in economic revitalization
This bill had a hearing before the Joint Committee on Telecommunications, Utilities and Energy on June 18, 2019.
ACEC/MA thanks State Representative Carolyn Dykema (D-Holliston) for sharing this information on H.3846, An Act relative to GreenWorks. Representative Dykema is the Vice Chair of the Massachusetts Legislature's Joint Committee on Telecommunications, Utilities and Energy, She can be reached at (617) 722-2680.